United Eleven Co., Ltd Have Been Awarded ISO 9001 Accreditation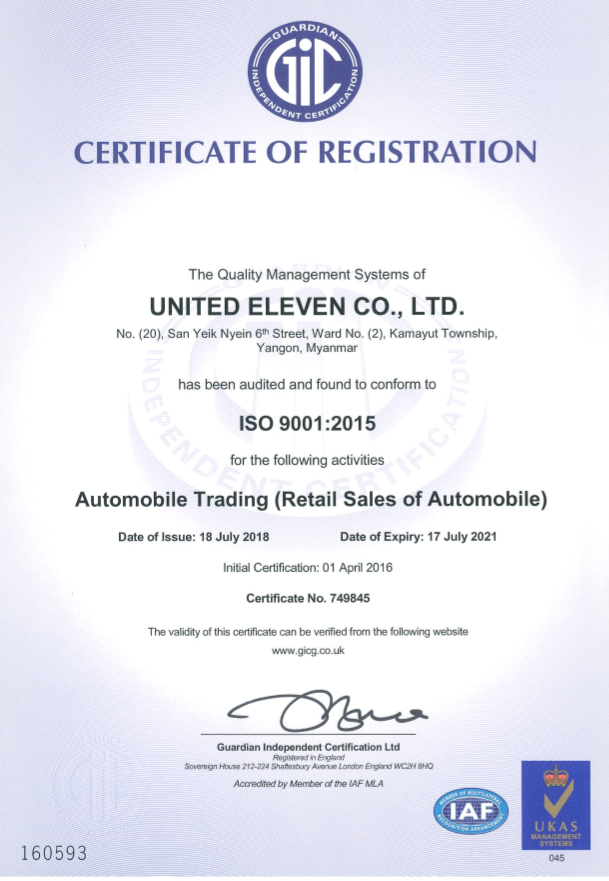 United Eleven Co., Ltd proudly to announce that we have achieved the ISO 9001 certification and accreditation in April 2016. Achieving this award has positive implications in terms of our working practice and reassures customers that who will receive high quality of service.  ISO 9001 is an internationally recognized quality management system that audits a company's quality of; facilities, people, training, services and equipment.

In order to achieve the ISO 9001 Certification,  our colleagues have to spend more half a year to complete the Quality Manual. 
A Documented Quality Management System is required, together with the policies and procedures required by ISO 9001.

The documentation stated:

    Organization structure
    Quality Policy
    Vision & Mission

    Who should record information and what information should be recorded

    Role and Responsibilities of employees

    Built communication system throughout the company

    What actions are required

    How continuity will be maintained as staff change
    Employee Benefits

Auditing will be conducted on a regular basis so standards can be maintained and companies participating in the system can always be confident that their policies and procedures are up to date.

Customers will benefit from the tight management structure and services in the following ways; improved quality and service, prompt delivery, right first time attitude, less returns and complaints and regular audits show commitment to quality.  An ISO 9001 certification is a positive testimony to any business.

At United Eleven Co., Ltd, we strongly decided to continue providing our present high quality service with increased dedication to improve our standards within the ISO: 9001 management structure. 

The ISO 9001 award recognizes United Eleven Co. Ltd commitment to an exceptional quality of service.